Wholesail partners with Stripe to offer credit card processing. After a quick setup you will be able to start receiving credit card payments from your customers.
1. Go to Settings and select the Payments tab.

2. Press "Setup credit card payments". On the following screen you will be asked for your mobile number and email address. Enter them and press Next.
3. If the email address you provided is associated with an existing Stripe account, you will be prompted to log into Stripe. If you do not have a Stripe account, you will receive a text message containing a 6-digit verification code.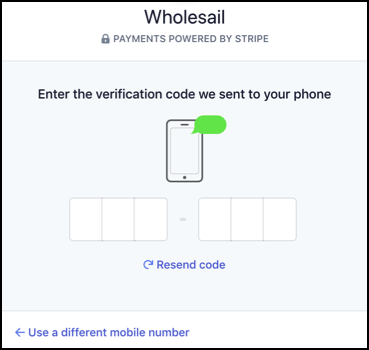 4. Enter the code to proceed. The following screen solicits information about your business. Fill it out and press Next.
5. The next screen solicits personal information about you and your role in the company.

6. On the following screen Stripe will ask you if there are people (other than you) who own 25% or more of the company. If there are, you only need to add their names and email addresses. Stripe will email each individual owner a link to a form to fill out.
7. Now you can fill out your bank account details.
This is the bank account that will receive payouts for credit card payments. It must be a checking account and should be the same bank account you connected to receive ACH payments.
8. After submitting the routing and account numbers, you will be taken back to the Settings screen in Wholesail. There's going to be a loading indicator for a few moments. After the process is complete, the Payments tab will look similar to this: